ROLE: 
VISUAL DESIGNER
---
CHALLENGE & PROCESS:

Compass is a technology start-up and a real estate company - their product is the agents. As part of the design & marketing team, I was in charge of helping agents and Compass build their brand. 

With Compass, I walked through each phase of the design process. From defining the needs of agents, to ideating with them to develop the most effective strategy for exposure and reputation. Testing different strategies of marketing exposure is a large part of the real estate world. I worked with agents to define what worked best for them whether it's print, digital, social media, event sponsorship, etc.
In addition to the daily support of agent branding, I also assisted developing the national brand style guide and corresponding toolkits (guides for illustration, listing advertisements, agent logos, photography, etc.) 
---
PROJECTS:
Brand & Agent Marketing Materials

Style Guides & Toolkits

Advertisements (Print & Digital)


Digital Icons and Illustrations

Agent Branding & Strategy

Signage (Environmental)

Email Marketing Campaigns


Website (Design)
"GUIDING YOU THROUGH ASPEN" CAMPAIGN
We published a weekly 20-page piece on guiding someone through Aspen - from local tips, to insider knowledge, to upcoming events - our publication covered more than just real estate. 
We surveyed our region and saw that we wanted to take a more user centered approach to advertising properties. Instead of bombarding our readers with information about real estate and property after property, we decided to create more of a weekly neighborhood guide - highlight our agents & inside information that they would find useful. 
It was a success - and they had staying power! We saw the publications find their own spot in local cafes, in public spaces, and we'd catch people reading them all over town.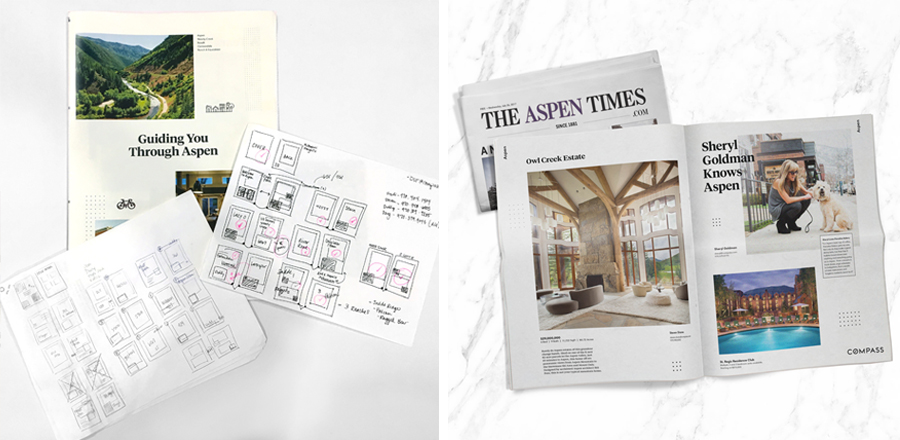 24-36 PAGE SEASONAL MAGAZINE INSERTS
Every 3 months, I produced a 24-36 page booklet (magazine insert) that was bound into widely distributed publications, and printed for individual disbursement as well. These inserts displayed agents and their luxury listings. My approach to the design was to set ourselves apart from other real estate companies and their traditional advertising. We wanted to challenge the perception of our audience and position ourselves as lifestyle and design experts.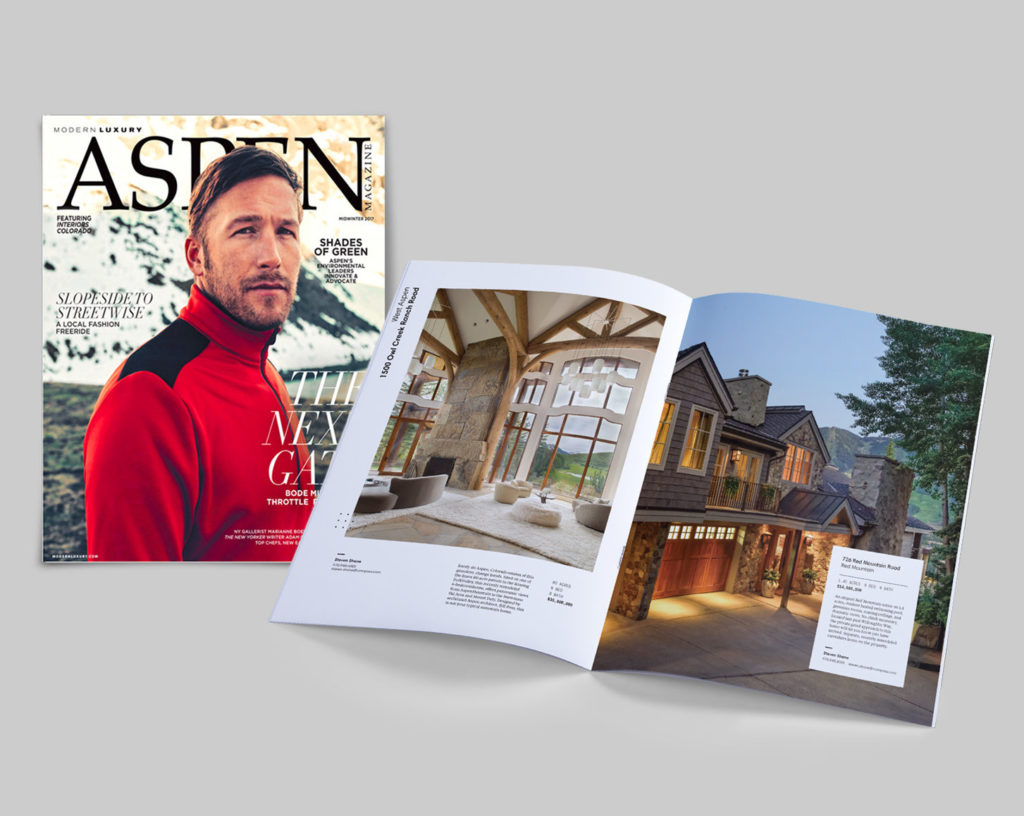 AGENT LIFESTYLE & LISTING ADVERTISING
Advertisements for a variety of publications and purposes: Magazines, newspapers, brochures, direct mail, postcards, and more.


---
ASPEN AIRPORT SPONSORSHIP (ENVIRONMENTAL GRAPHICS)
Compass joined into an exclusive sponsorship with Aspen Private Airport. I designed all of the exterior graphics, signage, cart wraps, apparel and promotional materials . 
---
EMAIL MARKETING & LISTING WEBSITE DESIGN
Agents send out weekly/monthly email campaigns to advertise themselves or their listings. They also request websites as an additional avenue to advertise their properties. These sites are usually built on SquareSpace with a small amount of custom coding.